The world can be a very strange place...and a beautiful one, too. People can inspire us. Most of you know Michael Praed from the "Robin of Sherwood" television show, which aired in America as "Robin Hood."





I have reworked the pages that follow, so they will load much faster.

The images below are from "ROBIN OF SHERWOOD," in which Michael played the starring role.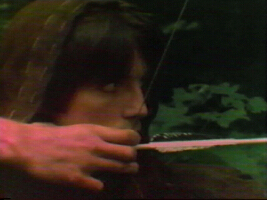 0
Click on thumbnails to see image in large format, then hit your brower's BACK button to return to these pages - OR - use your RIGHT mouse button and use the option to "open link in new window," so you can just close it when you're done viewing the image.




The photoa of Michael wet and on horseback on the following pages were taken by his co-star from "Robin of Shewood," Mark Ryan, and are avialbe exclusively through the Spirit of Sherwood, along with several others from that same shoot. Check out Chris' AOL Robin Hood, "Spirit of Sherwood"page or email here at ChrisRHood@aol.com. The Michael Praed Network can be reached HERE.

M
Michael Praed, a British actor, has been my favorite for a very long time now. I hope you enjoy the pictures of him above and on the next few pages. Several were taken with my little Snappy.
If you are interested in ordering pictures, I will code them "0" for snappy (cannot be ordered), "M" for the Michael Praed Network (their address is above) and "SS" for the Spirit of Sherwood fanclub, their link is above. Those not labled were found at various other sites such as Hollywood's various stores.
Please note that the gorgeous black and white photos as well as those of Michael with the motorcycle and trenchcoat and the close-up right next to it were all taken by professional photographerBrian Aris.

Continue on for more Michael photos - Lots more have been recently added.

Disclaimer: While I make every effort to assure that all artwork is available for web use, and/or used only with permission of the original artist, I may, on occasion, be inadvertently in error. If this should occur, and you claim a piece of original art, please email me immediately so that I can either remove the offending graphic, or give you credit for your work and link the graphic back to you, whichever you prefer.